To download and launch the Logitech Solar App for your K750 keyboard:
Download and install the Solar App.

Press the Light-check button to launch the Solar App. The Light-check button is located above the number pad.

Read the status indicators using the Solar App image below for reference.

NOTE: To bring the Solar App to the foreground, press the Light-check hot key on the keyboard. The Solar App will pop up, and the Light-check gauge will activate immediately.
Using the Solar App status indicators
The Solar App operates in the background and notifies you whenever there is a change (up or down) in the K750's energy reserve.

Try to keep the Light-check gauge pointing at 100 lux or higher to make sure the K750 will have plenty of energy.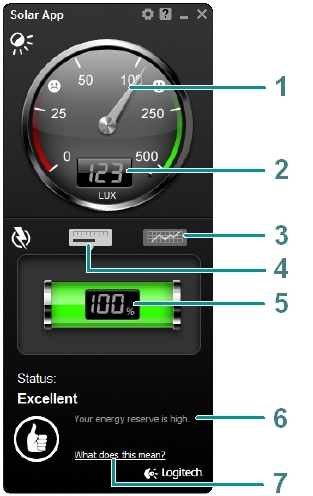 Light-check gauge
Light-check gauge readout
Energy reserve (historical)
Energy reserve (real time)
Energy reserve readout (real time)
Status notifications about energy reserves
Click for guidance about energy reserve management
Frequently Asked Questions
We have Auto-Detected your Operating System. Please see the Downloads below
---
Windows
Mac
Other