Important information for Logitech Control Center and macOS Catalina: Update LCC before installing macOS Catalina
Pinned
Featured
Answered
Note: This post was updated <11:39 AM PST>
If you use Logitech Control Center (LCC) 3.9.8 or earlier, please update to the latest version of LCC before you upgrade to macOS 10.15 (Catalina).
To install the latest version, open LCC and click on any device. From the menu bar, select Check for Updates. You can also get the latest version from the Download page here https://support.logi.com/hc/articles/360025297833
If you experience any issues, please check this FAQ: Important information for Logitech Control Center and macOS Catalina and Mojave https://support.logi.com/hc/articles/360023202814
NOTE: We are aware that after upgrading from macOS 10.14 Mojave or earlier to macOS 10.15 Catalina with LCC (Logitech Control Center) versions 3.9.8 or below, some Logitech Unifying-based devices may stop working. This is a known issue on macOS 10.15 Catalina and we're actively working with Apple to address it.
In the meantime, if your Unifying device is not working after upgrading to macOS Catalina, please upgrade to LCC 3.9.9 from this link and reboot the system to complete the installation.
If your device is still not working, please check which version of the Unifying drivers are loaded into the system, to do so:
1. Launch Terminal from /Applications/Utilities folder
2. Run the following command :

kextstat | grep -i Logi
105    1 0xffffff7f8252b000 0x47000    0x47000 com.Logitech.ControlCenter.HIDDriver (3.9.9) BB513FDB-C9C7-3A6F-AD71-58CDD322B095 <104 76 49 25 6 5 3>
  106    0 0xffffff7f82582000 0x16000    0x16000 com.Logitech.Unifying.HIDDriver (1.3.9) 4E15EC6B-3BB3-3644-B366-F5EFB857C2BB <105 104 49 25 6 5 3>
If the "com.Logitech.Unifying.HIDDriver" is any version other than 1.3.9, then the new driver was not properly loaded by macOS Catalina. To fix this issue, please try the following steps:
1. Start your system in Recovery Mode:
- Restart your computer (From the menu bar, click on the Apple logo and select Restart)
- Hold the "Command" and "R" keys until the Apple logo appears
2. You should see "macOS Utilities" screen, if not, repeat step (1).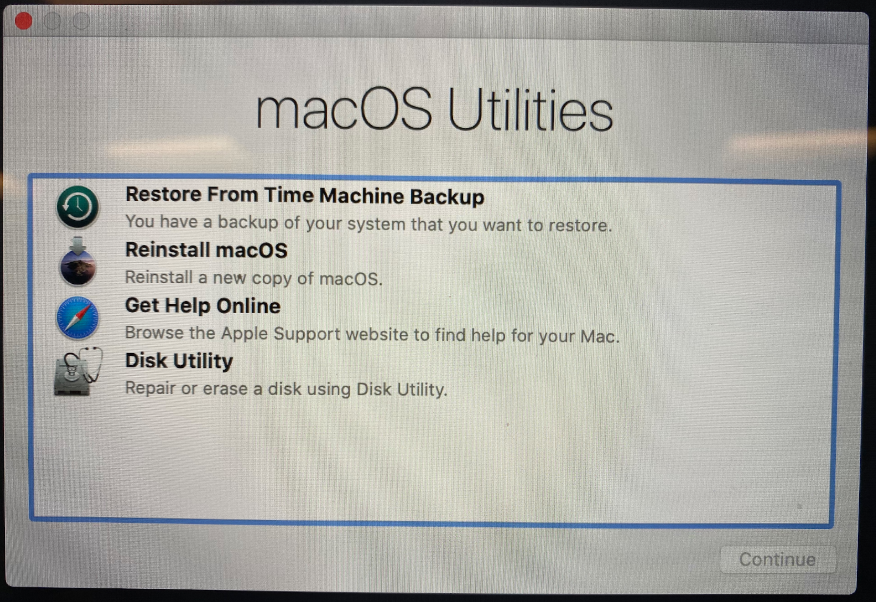 3. Close this window using the red button on the top left
4. Click on "Choose Startup Disk..."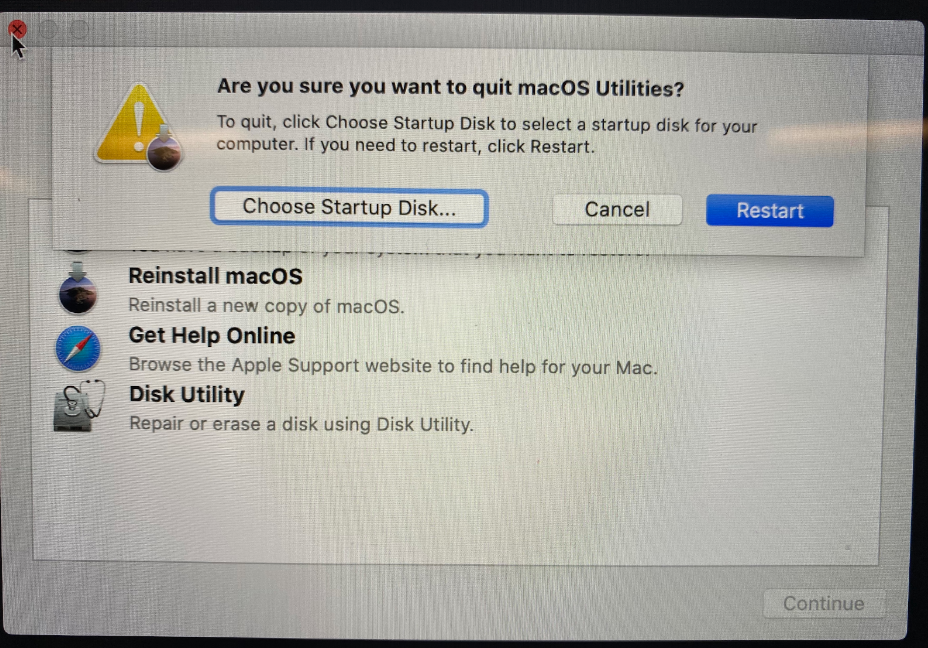 5. Then select "Restart.."




6. Lastly, select "Restart" again - you may see a spinning icon for a few minutes before rebooting.

Please sign in to leave a comment.