GETTING STARTED
Questions about your MX MASTER 2S? We've got the answers, videos, downloads and information you need. Search for articles or select a topic below to get started.
Step One
Download Logitech Options to use all the possibilities this mouse has to offer. To download and learn more about the possibilities go to logitech.com/options.
Step Two
Turn your mouse on.
Step Three
This mouse allows you to use it with up to three different computers. Just use the Easy-Switch™ button to change the channel. Select the channel you want and go to the next step.
Step Four
To connect your mouse to your computer press the Easy-Switch™ button for 3 seconds. When it blinks fast it means it's in discoverable mode.
Step Five
Choose if you want to pair with Bluetooth or with the provided Unifying receiver.
Product Overview
MX MASTER 2S AT A GLANCE
| | |
| --- | --- |
| 1 – Speed-adaptive scroll wheel | 6 – Darkfield high precision sensor |
| 2 – Manual shift button | 7 – Easy-Switch & connect button |
| 3 – Gesture button | 8 – Battery status LED |
| 4 – Micro USB port | 9 – Thumb wheel |
| 5 – On/Off button | 10 – Back/forward buttons |

Features:
Speed adaptive scroll-wheel
If SmartShift™ is enabled, the speed-adaptive scroll wheel shifts between two scrolling modes automatically, in response to your touch.
Click-to-click (ratchet) mode — ideal for precise navigation of items and lists.
Hyper-fast (freespin) mode — near-frictionless spinning, letting you fly through long documents and web pages.

 
Enable SmartShift
Select Enable from the SmartShift pull-down menu on the Point and scroll tab.
Turn off SmartShift by selecting Disable from the SmartShift pull-down menu.
When SmartShift is disabled, spinning or braking the scroll wheel has no effect on the current scrolling mode.
Switch modes manually
Whether SmartShift is enabled or disabled, you can manually switch between modes by pressing the mode shift button.
By default, mode shift is assigned to the button on top of the mouse. (Check current button assignments on the Mouse tab.)

Set a fixed scroll wheel mode
If you prefer to use just one mode, you can fix the scroll wheel to either click-to-click (ratchet) or hyper-fast (freespin) mode.
On the Point and scroll tab, select Ratchet or Freespin from the Fixed scroll wheel mode pull-down menu.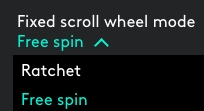 IMPORTANT!
You can fix the scroll wheel mode only if SmartShift is disabled and mode shift is not assigned to any MX Master button.

To activate fixed scroll wheel mode:
Select Disable from the SmartShift pull-down menu.
On the Mouse tab, click the highlighted mode shift button and select an action other than mode shift.
For more help, see the MX Master 2S FAQ page
Thumb wheel
Scroll side to side effortlessly with a stroke of your thumb.
To scroll horizontally:
Spin the thumb wheel up (to scroll right) or down (to scroll left)

Install Logitech Options software to extend thumb wheel capabilities: 
Invert scrolling direction
Reproduce touch-based gestures
Adjust scrolling speed and resolution
Navigate tabbed content
Switch apps
Swipe between full-screen apps (Mac only)
Switch between full-screen apps (Windows 8 only)
Zoom in and out
Adjust volume
Control screen brightness
Display notifications (Mac only)
Gesture button
GESTURES STREAMLINE NAVIGATION AND DESKTOP MANAGEMENT

Install Logitech Options software to enable gestures for managing media, panning, zoom, and rotation, plus custom tasks.

Assign up to five different actions to the Gesture button. Or map gestures to other MX Master buttons, including the middle button or manual shift button.
​
To perform a gesture:
Hold down the Gesture button while moving the mouse left, right, up, or down.
The figure below shows the gestures for managing windows in Windows 8 and in Mac OS X.

Back/Forward buttons
Conveniently located at your thumb, the back and forward buttons enhance navigation and simplify tasks.
To move back and forward:
Press the back or forward button to navigate web or document pages, depending on the location of the mouse pointer.
NOTE: On the Mac, enabling of the back/forward buttons requires installation of Logitech Options software. 
Install Logitech Options software to unlock new capabilities for the back/forward buttons
In addition to enabling the buttons for use with Macs, Logitech Options software lets you map other useful functions to the buttons, including OS navigation, zoom, dictionary lookup, and more.
 
Battery
1 – Charging cable
RECHARGE MX MASTER 2S
Connect one end of the provided charging cable to the Micro-USB port on the mouse and the other end to a USB power source.
A minimum of 3 minutes charging gives you enough power for a full day of use. Depending on how you use the mouse, a full charge can last up to 70 days*.

* Based on eight hours of daily use. Battery life may vary depending on user and operating conditions.

CHECK BATTERY STATUS
Three LED lights on the side of the mouse indicate battery status. 
Install Logitech Options software to receive battery status notifications, including low-charge warnings.
LEDs Lit
Color
Indications
3
Green
100% Charge
2
Green
66% Charge
1
Green
33% Charge
1
Red
10% Charge
Recharge now!
Frequently Asked Questions