---
Scrolling function lags or is slightly erratic
The M600 mouse tracks finger movement to perform functions such as scrolling. To prevent unintended actions, the mouse waits for up to 5mm of finger travel before it performs a gesture. This is the normal behavior of the mouse.
---
Unintended back/forward movement in browsers when scrolling
When scrolling, if you move your finger to the left or the right significantly enough, the mouse may issue a back or forward command to your browser. To resolve this, make sure you move your finger straight up and down (as shown in green below) when scrolling.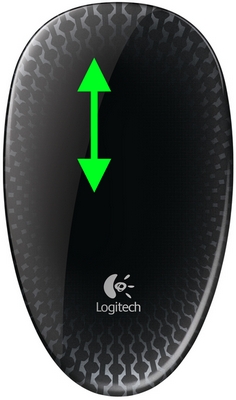 Frequently Asked Questions
Auto detected OS
---
Windows
Mac
Other