You can customize your trackpad settings for point, click, tap, scroll, zoom, and other advanced gestures using the Logitech Preference Manager (LPM) software.
NOTE: If you don't have Logitech Preference Manager installed, you can download it. See answer 360023218414 for instructions.
---
---
Accessing trackpad gesture settings
Logitech Preference Manager software lets you customize trackpad gestures. Here's how:
Launch the Logitech Preference Manager software.

Apple Menu > System Preferences > Logitech Preference Manager

Click your connected trackpad shown on the device selection screen.

NOTE: The device selection screen only appears if multiple LPM-configurable devices are connected to the Mac.

Select the tab or icon for the functions you want to customize.
A drop-down arrow to the right of a setting description means that multiple control options are available for that setting. Click the arrow to view and select from the available options. Enable or disable options by selecting or clearing the radio buttons.
---
Managing Point & Click settings
After launching Logitech Preference Manager (see above), select the Point & Click tab to enable or disable the following settings.
Tap to click

Secondary (Right) click

NOTE: This function is available only if Tap to click is enabled.

Look up

Three finger drag

NOTE: This can still be used with One Finger Drag enabled (see Advanced Settings for details). Enabling Three finger drag automatically sets gesture controls for Swipe between full-screen apps, Mission Control, and App exposé from 3 fingers to 4 fingers. See the More Gestures tab for details.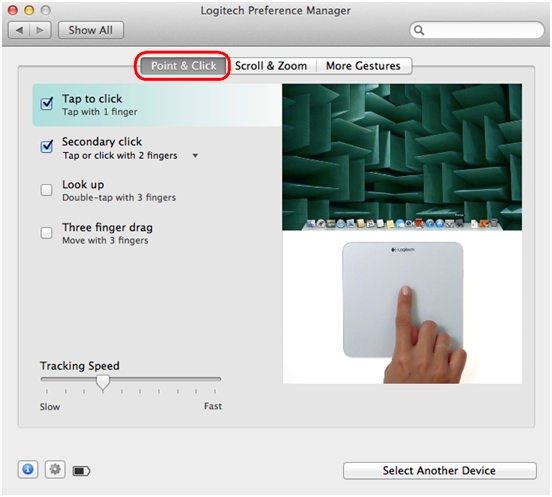 ---
Adjusting Scroll & Zoom settings
Select or clear the radio buttons on the Logitech Preference Manager Scroll & Zoom tab to manage the following settings.
Scroll direction: natural

NOTE: Upon first launch of LPM, this uses the current status of the same setting in the System Preferences Trackpad preference pane.

Zoom in or out

Smart zoom

Rotate Scrolling Speed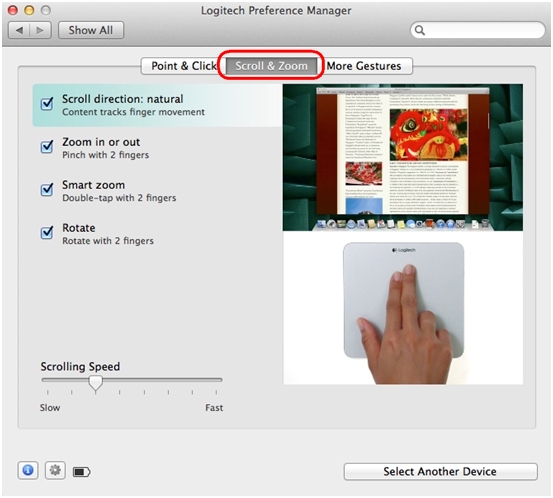 ---
Customizing Mac OS X specific and additional gestures
Enable or disable the following gestures on the More Gestures tab.
NOTE: Mission Control, App exposé, Launchpad and Notification Center are Mac OS X specific features. See the Apple website for details.
Swipe between pages

Swipe between full-screen apps

Mission Control

App exposé

Launchpad

Show Desktop

Notification Center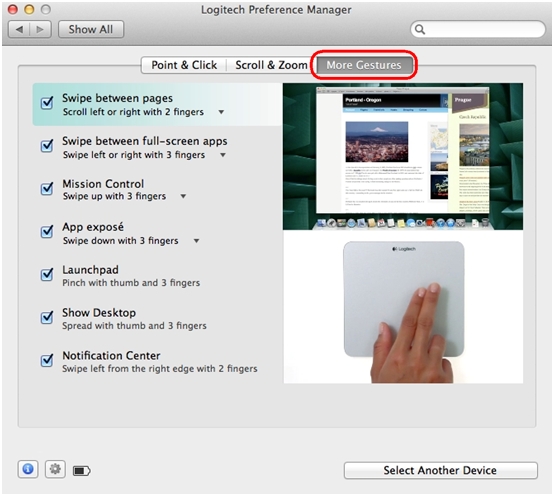 ---
Trackpad advanced settings
To access advanced settings for your trackpad in Logitech Preference Manager, click the gear icon in the lower-left corner, available on all of the tabs. You can modify the following:
Double-click speed

Scrolling

Show low battery warning on screen

One finger drag

NOTE: This can still be used with Three finger drag enabled (see Point & Click tab for details).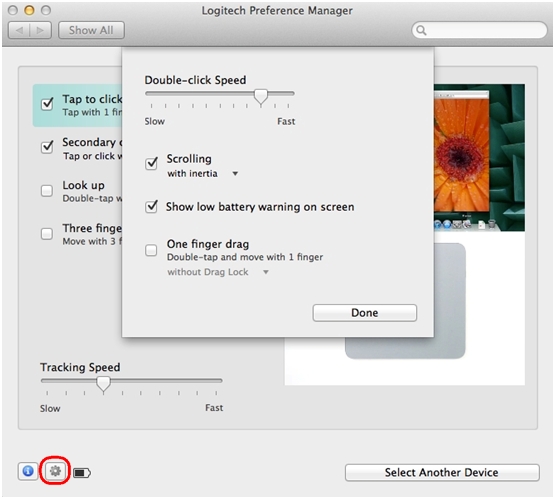 ---
Types of trackpad gestures
For more information on trackpad gestures available on your trackpad, see answer 360023218414.
Frequently Asked Questions
Auto detected OS
---
Windows
Mac
Other