The Vibration button on the Rumble Gamepad F510 enables and disables the rumble effects on the gamepad at the hardware level.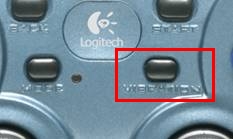 When you press the Vibration button, the controller will respond with either:
Short vibration: Rumble effects are disabled

Long vibration: Rumble effects are enabled
NOTE: Rumble effects can only be felt in games that output vibration effects. Enabling the rumble functionality on your gamepad with a game that doesn't support rumble won't have any effect.
Frequently Asked Questions