Your K800 Keyboard's function keys, or F-keys, have two modes:
Normal. By default, the function keys perform tasks based on the operating system and application you're using. To use a function key in its normal state, you press it by itself.
Enhanced. The function keys are pre-programmed to perform certain tasks when you press them at the same time as the FN key (shown below). For example: Press and hold the FN key (A) and the F1 key (B) to launch your internet browser.
Using the Logitech SetPoint Mouse and Keyboard Software, you can change the pre-programmed function for each key. You can also swap the modes so the enhanced functions work without having to press the
FN
key. See the "Programming function keys" section of answer 
360023230934
for instructions.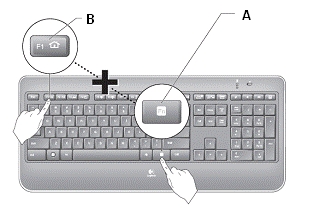 The enhanced functions are listed below:
Key
Function
1. Application zone
F1
Launch internet browser
F2
Launch email application
F3
Launch Windows Search*
F4
Application switcher*
2. Convenience zone
F5
Reduce backlight by 25%
F6
Increase backlight by 25%
F7
Battery check
F8
Sleep mode
3. Multimedia navigation zone
F9
Launch media player
F10
Previous track
F11
Play/Pause
F12
Next track
4. Multimedia volume zone
Mute
Volume down
Volume up
Calculator
Additional features
5
FN key
6
Automatic light sensor (ALS)
7
Battery status indicator
8
Keyboard power switch
*Requires SetPoint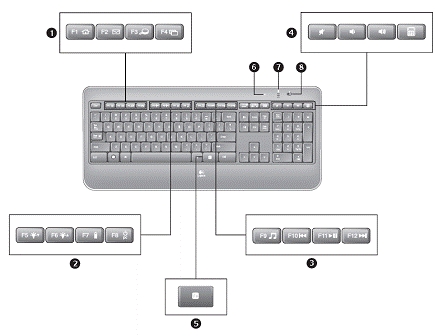 Frequently Asked Questions
There are no Downloads for this Version.