NOTE:

For details on mounting the G29 and G920 racing wheels using bolts, see
Mount and secure the G29 or G920 racing wheel using built-in bolt mounting points
.
---
Wheel Unit
G29 and G920 racing wheels are equipped with a built-in clamping system that can be mounted to a table or desk, or mounted to a racing rig using built-in bolt mounting points. 
NOTE:
Before mounting and securing the wheel unit, make sure to connect the power adapter, pedal unit, and Driving Force Shifter attachment (where applicable) to the connection ports on the underside of the wheel unit. See the
Cable Management
section for details.
To use the clamping system to mount the wheel unit:
Push down and then rotate the clamp knobs to lock or unlock.
Rotate the clamp knobs to tighten or loosen clamps.
NOTE:
You can use the included clamp extenders for thinner tables. The clamp extenders should be removed before mounting the wheel unit to thicker tables or desks.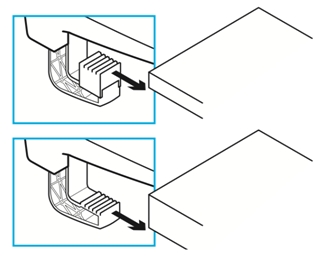 ---
Pedal Unit
The pedal unit can be placed on the floor or mounted to a racing rig using built-in bolt mounting points. The retractable carpet grip system increases the unit's traction when placed on carpets. Push the retaining clip towards the rear of the pedal unit to release the grip system. Push the carpet grip into the unit until it clicks to retract.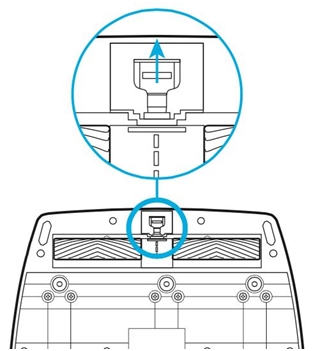 ---
Cable Management
For optimal cable routing, USB and pedal cables (1, 2) should be routed through the inner channels. The power and optional shifter cables (3, 4) should be routed through the outer channels.
Cables may be wrapped multiple times around cable management cleat to take in slack.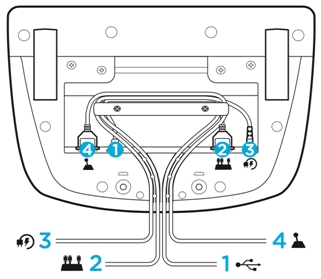 Frequently Asked Questions