To assign functions to your G-Keys, you need to have an existing profile for your game. If you need to create a profile, see Knowledge Base article 21454.
---
Creating new functions for my G-Keys
Launch the Logitech Gaming Software 7.x (Start > Logitech > Logitech Gaming Software 7.x).

Click on the G-Key icon on the bottom of the window.

Click on the game profile you want to edit.

4. Click on the Add Function icon at the bottom of the Commands pane.

The Command Editor window will display.

Within the Command Editor, you can set up a:

Function:

Preconfigured system or G-Key-specific function

Keystroke:

Either single key or multiple-key press combination

Multi Key:

Complex keystroke and macro combination

Shortcut:

Link that opens a specific file or application

Text Block: Block of text that would be too complex to edit as a macro.

NOTE:Text Block supports the option of Unicode playback and millisecond delays. Some applications may function better with these options enabled, while others may not. It's best to see which settings work for your application.

Once you've created the command, click OK to save it.
Once you've created some functions, see the next section for how to assign them to your G-keys.
---
Assigning existing functions to my G-Keys
If your profile has existing functions, you can drag them from the left Commands pane onto the G-Key you want to program. Once you drag and drop a function onto a G-Key, it is assigned to that key.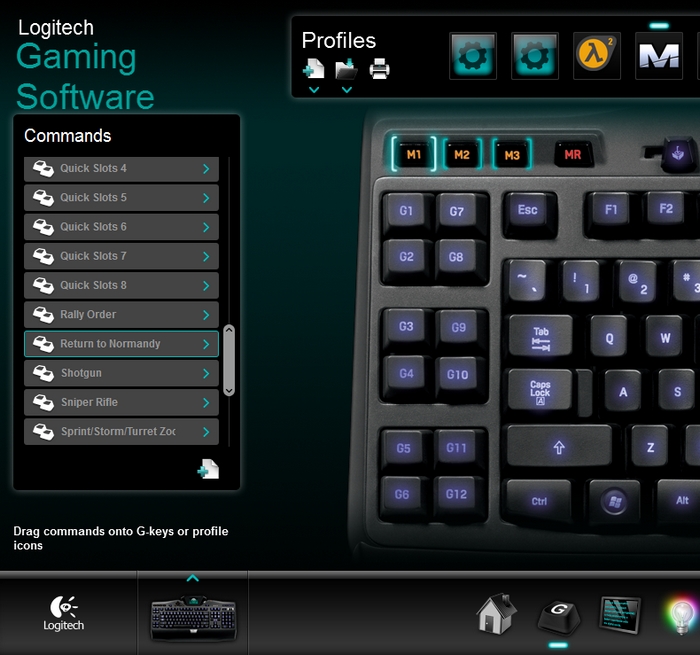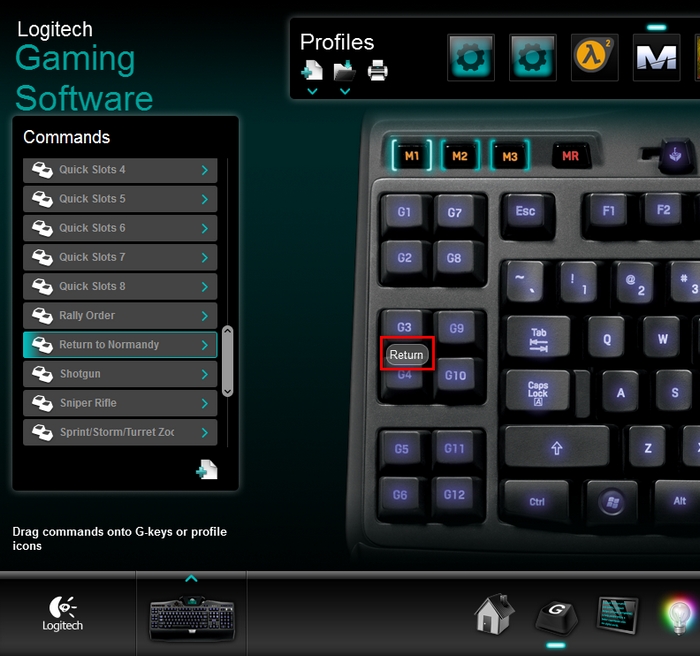 Make sure you're in the intended M-Key set when assigning functions. Each G-Series keyboard has three M-Key sets. Each of M-keys (M1/M2/M3) can have its own set of assigned functions.
To verify which M-Key set you are in, check which one is lit on the keyboard with the bracket around it pulsing. M1 is the default M-Key set for the keyboard and all functions will be created for that set until and unless you select one of the other M-Keys. To create a set of functions for M2 or M3, make sure to select the intended key before you begin making assignments.
Frequently Asked Questions