Setting up PRO X Gaming Headset with G HUB
Pinned
Featured
Hey there! We have recently launched the PRO X gaming headset, and while most gamers are loving the headset and having a great time, we have a handful of cases where customers are having issues connecting the headset to their gaming PCs with G HUB. In most cases, the issue can be resolved with an appropriate driver update. Instructions on how to do a complete driver update are detailed below.
We are working diligently on a more permanent solution, but for now this should get you up and running with Blue VO!CE and more on the PRO X headset. We understand that this is annoying, and we have more work to do to make G HUB what you deserve. We hear you and have plans to continue to dramatically improve our software, which we will explain in a separate post. Thank you for being awesome!
Step 1: Make sure you get the latest version of G HUB installed on your PC if you want to use Blue VO!CE or surround sound with PRO X. You can download the latest version here.
Step 2: If you are currently experiencing a connection issue with G HUB, you will need to reinstall G HUB with a fresh install. When you install the latest version of G HUB, you will be asked to reboot your PC to update the audio driver for PRO X. Make sure you are not running any applications that are actively using the microphone BEFORE you reboot. (Close discord, OBS, xsplit, or other applications that would be actively using the mic driver).
Step 3: Plug your microphone into the headset, make sure the jack is all the way connected.
Step 4: Find the braided PC cable in the box and connect the end with the volume control box into the headset. Again, make sure the cable is all the way connected.
Step 5: Connect the other end of the PC cable to 3.5mm jack on the USB DAC sound card and then connect the DAC to your gaming PC.
Step 6: Open G HUB and navigate to the PRO X page to access Blue VO!CE microphone technology! You can also use G HUB to dial in your favorite EQ settings for the headphones.
Step 7: If you are still having issues connecting your headset to G HUB after doing the above, you can unplug and replug in the USB DAC to re-enumerate the headset and then reboot your PC.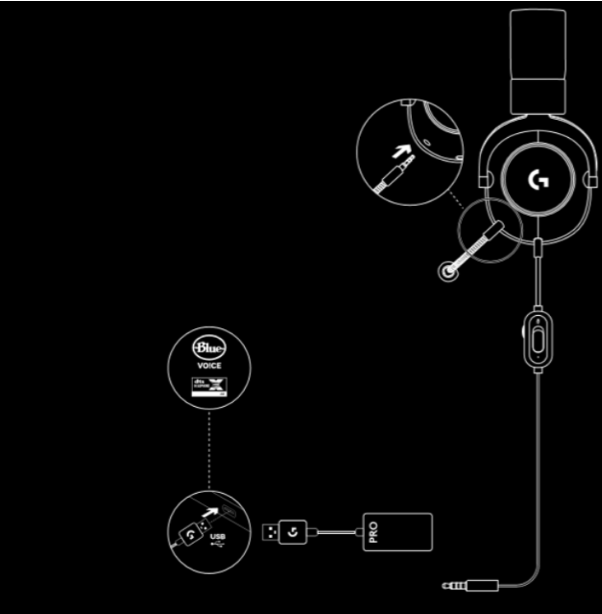 If you are still having connection issues after checking these steps, please contact customer support and we will jump on it. We are standing by to help you out. Click here to contact support.
Tips:
Blue VO!CE requires the headset to be plugged into the included USB sound card - it will not function if the headset is plugged into another sound card even if the included USB sound card is connected to the PC and detected by G HUB.
Make sure the volume on the control box on the cable is set to your desired volume and that the mic switch is not in the "mute" position.
Make sure you are not using the plastic mobile cable with the PC and the USB DAC. This cable has an inline mic and is intended to be used with a mobile device like a phone or tablet. There is an inline mic on the cable that will interfere with the mic on the headset and Blue VO!CE will not work properly.
Lastly, if you have any issues or questions, it is always best to contact customer support. We are on call and ready to help you out! Click here to contact support.
Please sign in to leave a comment.